Budget budget.
After months of savings with no shopping policy, we can now happily spend it all on a journey to remember.
As stated on my previous post, our budget for the whole 1-month was about approximately RM10k per person. I
ts a pretty good budget for a month trip in Europe. I was looking through some travel agencies with European tours, the packages are mostly around RM6-7k for a 10-day trip. You have to endure their tight schedule and possibly boring tours with the rest of the group.
Oklah, it's easier, tak payah pikir tak payah plan. Just bayar dan pergi. But the planning part, tho its challenging, is actually very fun.
Its your trip.
You get to decide.
Make it yours 100%!
Top: Eurail Global pass tix, Flight tix
Bottom: Last year's currency for Euro & Swiss Francs
The RM10,000 includes the following :
1.
Emirates
Return flight ticket - RM2650
2. Eurail Global pass (10 trips in 2 months*) - RM2162
3. Accommodations - Mostly AirBnb, hostels & Couchsurfing - RM1726
4. Food & Desserts! (This depends on how much you consume daily lols)
5. A concert in Barcelona (Sonar Festival) - RM288
6. Ferry Ride from Barca to Rome - RM400
Total excluding Food & Desserts : RM7226
Minus the concert which you probably dont need (unless Phoenix is only a few miles away.. teehee) The rest of the cash memang guna untuk tours, food & desserts. You can look for discounted and free tours online (look for Groupon deals, Discount Codes etc)
You can also save a lot by cooking (groceries sana murah). So a group of friend can tong-tong duit dah boleh buat nasi goreng + telur. Of course, we've had some maggi moments jugak :P
In England, you get to eat full meal (kebab + fries + drink) at 5-6pounds. In Europe, a slice of pizza is €
1 or €2 and a full set of Kebab (also with fries/rice and drink) is around €5. Some of us wanted to try the large portion of Seafood Paella in Spain (€15-20) Its a famous Spanish cuisine.
Do take note that Halal food is everywhere in Europe. You wont have trouble finding one. Otherwise, go for Vegetarian, Margarita or Seafood selections :)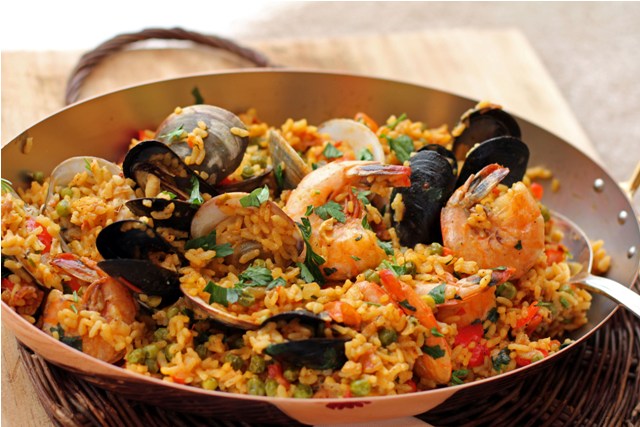 The gorgeous Spanish Seafood Paella
Beware of some restaurants with super fine print of prices tho. On one fine evening,
Naddy wanted to try a seafood pasta in which she thought costs her €15/meal -
or so we thought
. When the bill came, we were flabbergasted. The numbers doesn't seems right. The super fine print actually stated €15 for every 100grams of pasta :P So off it goes her 70 euros into the happy tummy :)
If you need more info on the budgeting - email me at elynnzo@gmail.com
xx
p/s dont be fooled by the Swiss Francs rate.